Why Was This Indicator Chosen?
Chaparral—the most widespread and characteristic type of shrubland in California—is dominated by hard-leaved evergreen shrubs such as chamise, manzanita, and some ceanothus species. These drought-tolerant plants are adapted to the steep slopes, shallow, rocky soils, hot, dry summers, and wet winters of the Coast Ranges. On Mt. Tam, chaparral tends to occupy elevations above 400 meters, where summers are hotter and drier, winters are colder, and more precipitation falls due to uplift.
Coastal scrub is dominated by soft-leaved, woody shrubs that thrive in the narrow maritime climate zone along the California coast. These communities are typically found on well-developed soils below 400 meters, where summer fog is frequent. Coyote brush (Baccharis pilularis) is characteristic of the northern division of coastal scrub (Ford & Hayes, 2007), which predominates on Mt. Tam.
The shrublands of Mt. Tam can be used as indicators of successional processes, disturbance, and habitat quality for terrestrial birds. Intact shrublands are fairly resistant to plant invasions, in part due to the high densities of small herbivores that shelter and forage in the understory (Lambrinos, 2002). The preservation of large blocks of coastal scrub and chaparral is also critical to the long-term viability of many bird species (CalPIF, 2004).
What is Healthy?
The persistence of large, contiguous (30 acres or greater in size), weed-free blocks of shrublands that provide habitat for shrubland-dependent plant and wildlife species that are sensitive to edge effects and fragmentation.
What Are the Biggest Threats?
Coastal scrub is generally less dense than chaparral, making it more vulnerable, especially in gaps and along patch edges; both communities are vulnerable to invasion along roads, trails, fuel breaks, etc. (Lambrinos, 2002; Kemper et al., 1999)
Conversion to non-native annual grasslands under too-frequent fire intervals (Keeley & Brennan, 2012), or to shrublands to hardwood forest and Douglas-fir (Pseudotsuga menziesii) stands as a result of fire suppression (Cornwell et al., 2012; Keeley, 2005; Callaway & Davis, 1993)
Douglas-fir encroachment due to a lack of fire, and the resulting impacts on shade-intolerant scrub and chaparral species
Shifts in shrubland community composition with changes in maritime temperature and precipitation as a result of climate change
What is The Current Condition?
The overall condition of the shrublands on Mt. Tam is Good thanks to numerous native shrub-dominated blocks of over 30 acres and relatively low levels of priority invasive plant species, although Douglas-fir encroachment continues to be of some concern.
What is the Current Trend?
Overall, this community has a trend of No Change. Although acres of shrubland impacted by invasive species continues to grow, Douglas-fir encroachment has not increased and the trend for core areas is unknown.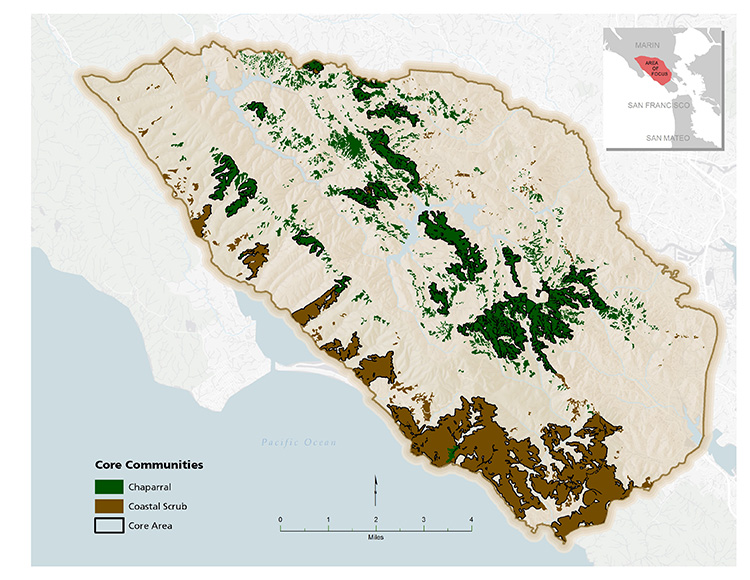 Map of core chaparral and coastal scrub locations in the One Tam area of focus 
How Sure Are We?
We have Moderate confidence in this assessment because while the Marin Municipal Water District (MMWD) has mapping data for these communities, these data are lacking for the other One Tam agencies.
What is This Assessment Based On?
MMWD vegetation maps (AIS, 2015)
Marin County Parks vegetation map 2008 (AIS, 2008)
1994 National Park Service vegetation map (also covered California State Parks) (Schirokauer, 2013)
What Don't We Know?
Key information gaps include:
Monitoring that captures compositional change in all communities at the landscape scale
Time series data, including vegetation maps updated in five-year intervals to detect expansions and contraction among grasslands, oak woodlands, and shrub vegetation types
Non-native, invasive species surveillance of off-trail areas in shrublands
resources
References
Aerial Information Systems, Inc. (2008). Marin County Open Space District Vegetation Photo Interpretation and Mapping Classification Report, prepared by Aerial Information Systems, Inc. for Marin County Parks.
Aerial Information Systems, Inc. (2015). Summary Report for the 2014 Photo Interpretation and Floristic Reclassification of Mt. Tamalpais Watershed Forest and Woodlands Project, prepared by Aerial Information Systems, Inc. for the Marin Municipal Water District.
Callaway, R. M., & Davis, F. W. (1993). Vegetation dynamics, fire, and the physical environment in coastal central California. Ecology, 74, 1567-1578. Available from: http://www2.bren.ucsb.edu/~fd/Pubs/callaway_davis_93.pdf.
California Partners in Flight. (2004). The Coastal Scrub and Chaparral Bird Conservation Plan: A Strategy for Protecting and Managing Coastal Scrub and Chaparral Habitats and Associated Birds in California (2nd ed.). Stinson Beach, CA: PRBO Conservation Science. Available from: https://www.prbo.org/calpif/pdfs/scrub.v-2.pdf.
Cornwell, W. K., Stuart, S., Ramirez, A., Dolanc, C. R., Thorne, J. H., & Ackerly, D. D. (2012). Climate Change Impacts on California Vegetation: Physiology, Life History, and Ecosystem Change (California Energy Commission Publication No. CEC-500-2012-023). Retrieved from California Energy Commission website: http://www.energy.ca.gov/2012publications/CEC-500-2012-023/CEC-500-2012-023.pdf.
Ford, L. D., & Hayes, G. F. (2007). Northern coastal scrub and coastal prairie. In M. Barbour, T. Keeler-Wolf, & A. A. Schoenherr (Eds.), Terrestrial Vegetation of California (3rd ed.). (pp. 180-207). Berkeley, CA: University of California Press.
Kemper, J., Cowling, R. M., & Richardson, D. M. (1999). Fragmentation of South African renosterveld shrublands: effects on plant community structure and conservation implications. Biological Conservation, 90(2), 103-111. Available from: http://www.overbergrenosterveld.org.za/kemper1.pdf.
Keeley J. E. (2005). Fire history of the San Francisco East Bay region and implications for landscape patterns. International Journal of Wildland Fire, 14, 285-296. Available from: http://www.werc.usgs.gov/OLDsitedata/seki/pdfs/k2005_east%20bay%20fire%20history_ijwf.pdf.
Keeley, J. E. & Brennan, T. J. (2012). Fire-driven alien invasion in a fire-adapted ecosystem. Oecologia, 169, 1043-1052. Available from: http://www.californiachaparral.com/images/Fire_driven_alien_plant_Keeley_and_Brennan.pdf.
Lambrinos, J. G. (2002). The variable invasive success of cortaderia species in a complex landscape. Ecology, 83(2), 518-529. Available from: https://www.jstor.org/stable/2680032?seq=1#page_scan_tab_contents. 
Schirokauer, D., Keeler-Wolf, T., Meinke, J., & van der Leeden, P. (2003). Plant Community Classification and Mapping Project Final Report. Retrieved from United States Geological Survey website: http://www1.usgs.gov/vip/pore_goga/pore_gogarpt.pdf.