Pollinator Power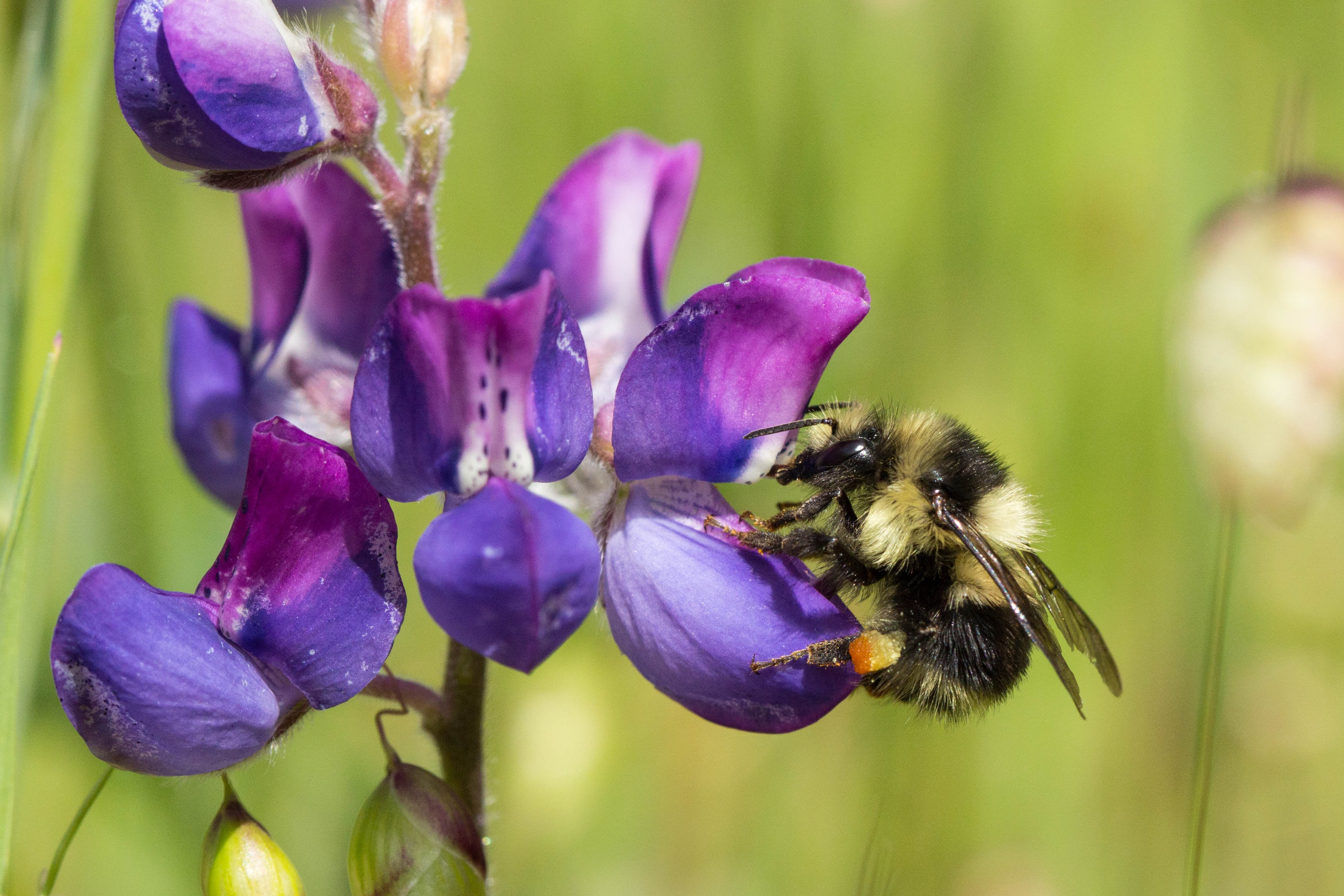 Bombus melanopygus, or black-tailed bumble bee. Photo by Nevin Cullen. 
Spring is peak time for pollinators in the Bay Area, coinciding with so many blooming plants. Pollinators are important members of our ecosystems – we know that without them, our world would look very different! A local Pollinator Week is springing up, with activities to learn about and support pollinators from April 22-30 – check it out here >>
Just in time for celebrating pollinator power, our Tamalpais Bee Lab is returning to Saturday volunteer events starting in late March. You can find those events and register on our calendar, too. The Tamalpais Bee Lab is an unprecedented effort to inventory Marin's wild bees, which we could not do without our community science volunteers! Last year, 87 volunteers contributed 468 hours to help process specimens for identification – which contributed to the results we can now share below. If you haven't joined a bee lab event before, it is a great way to learn more about local bees and insect identification. See upcoming dates and register here.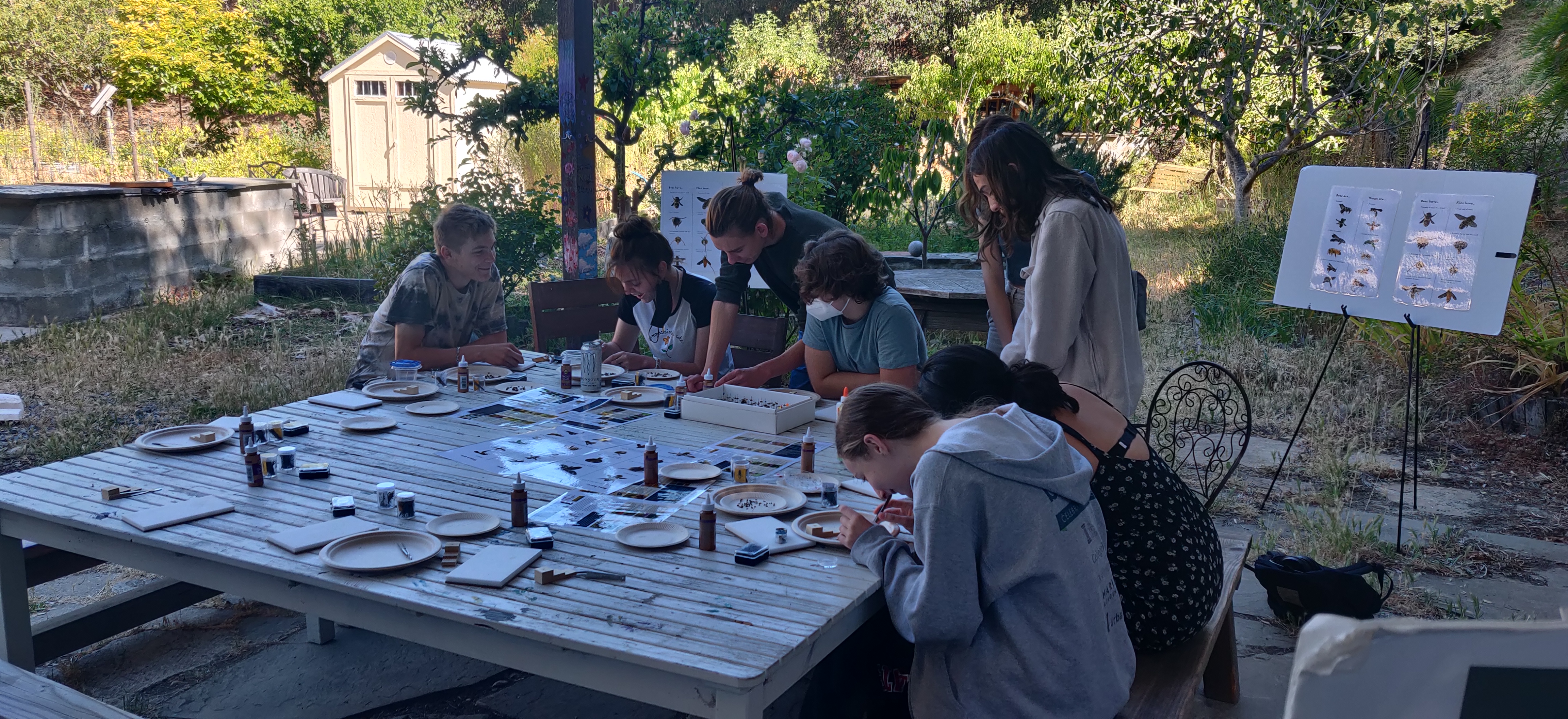 Volunteers sort specimens during a Tamalpais Bee Lab event. Photo by Sara Leon Guerrero, One Tam Community Science Program Manager.
Information about bees was identified as an important gap in our knowledge during the first effort to understand the health of Mt. Tamalpais in 2016 (a body of work also called Peak Health). This led One Tam partner agencies to begin bee studies in several locations in Marin County in 2017. Preliminary data from these surveys were used in the 2022 update of the Peak Health report, which will become available online soon. You can catch a recording of the Sneak Peek into Peak Health event held last fall where these results were presented here. 
What did we find? While it is too soon to assess condition (good, fair, poor, or unknown) or trend (increasing, decreasing, or no change) of the metrics that we chose to evaluate the health of the region's bees, early signs are promising: 
29% of species and 84% of genera known to occur in the study area were detected. 
Median species richness (number of species) at all sites was 36 (a remarkable recapture rate, given study limitations). 
28% of known specialist species and 10 new specialist species were detected, including several that are rare or uncommon (a specialist is species is one that needs specific resources or habitat conditions, as opposed to a generalist that does not).
These findings indicate that there are healthy populations of specialist host plants and suitable nesting habitat in the study area. The figure below offers a snapshot of these baseline survey results, including the number of species found at each sampling site across the One Tam area of focus, plus the overall number of known, new, and specialist species found.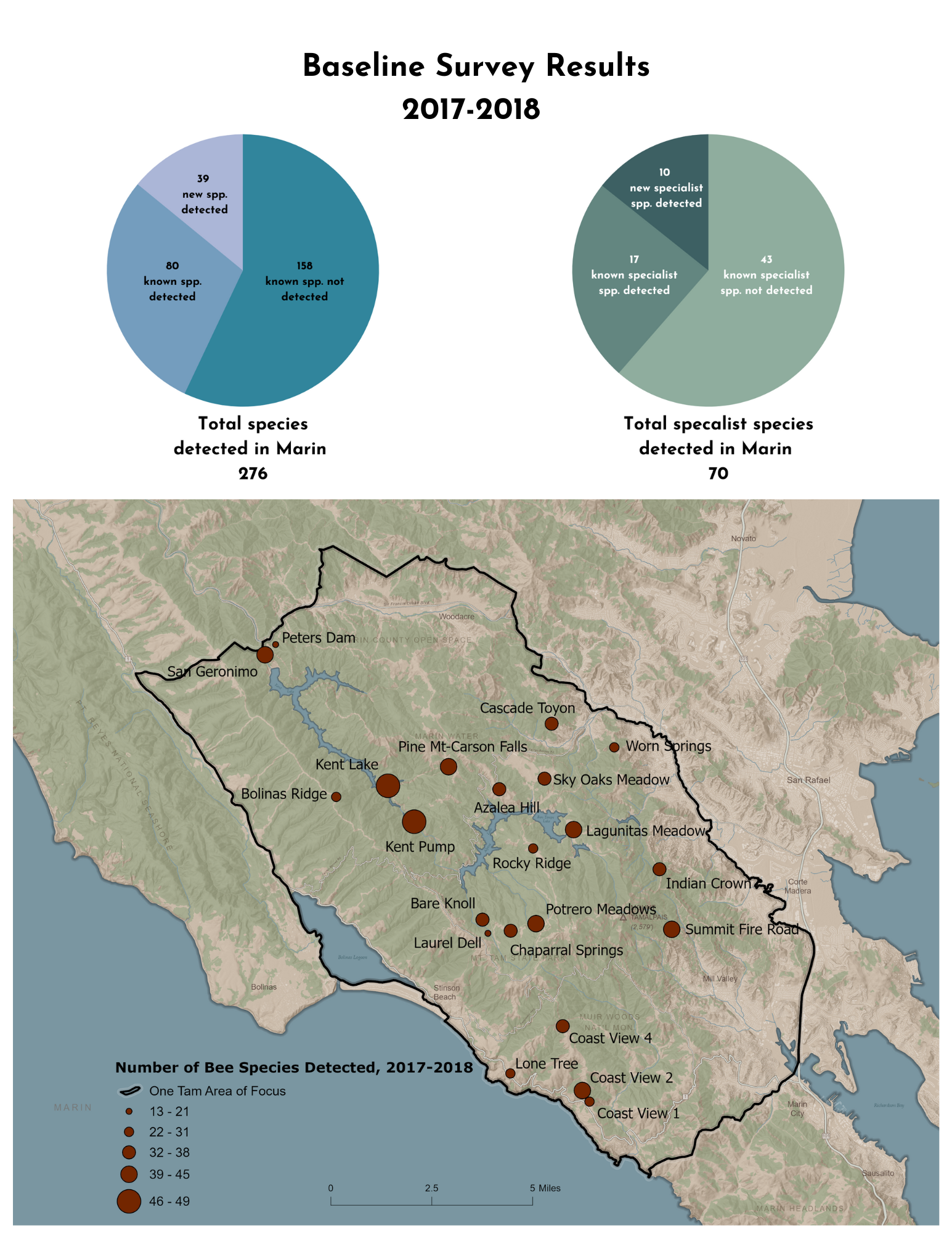 Figure and data summary by Sara Leon Guerrero, One Tam Community Science Program Manager.