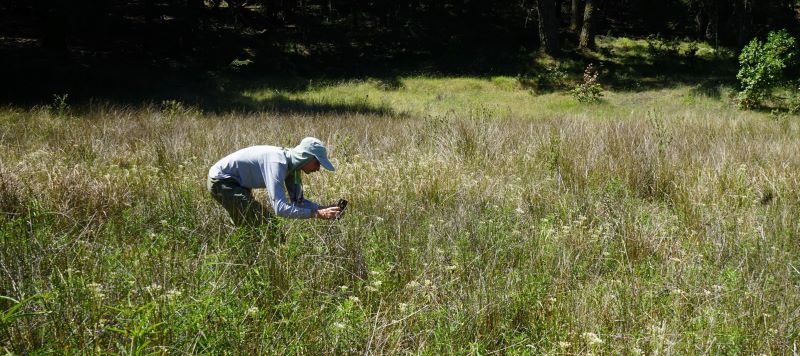 Please note: As of 7/2/21 Marin Milkweed Monitors is now full and we are no longer accepting applications. Thank you for your interest and understanding! We will update this message if this status changes.
The western population of the Monarch Butterfly is declining at an alarming rate. In December 2020, the U.S. Fish & Wildlife Service announced that protection under the Endangered Species Act is "warranted but precluded by higher priority action." At One Tam, we are mobilizing to understand monarchs and their habitat in public lands managed by One Tam partner agencies with support from the California Wildlife Conservation Board. You can take part in this effort by joining the Marin Milkweed Monitors and contributing data to improve scientific understanding of milkweed patches and inform restoration of this critical breeding habitat for monarchs. 
The Marin Milkweed Monitors is a community science initiative to understand the extent and condition of monarch breeding habitat in public lands managed by One Tam partners. Our knowledge of wild native milkweeds in this area is incomplete—Is milkweed present in known historical sites? Are there sites we don't know about? How are the milkweeds doing? Are monarch butterflies using them to raise their caterpillars? We are recruiting 20 community members interested in training to become ecological detectives.
What does it mean to be a community scientist and take part in Marin Milkweed Monitors?
As a community scientist, you would attend an in-person field training on July 10 from 9-1 at Mt. Burdell Open Space Preserve in Novato and then adopt a monitoring sector for the duration of the season from July-October. 
After training, you would visit your sector once per month starting in July for a total of 3 visits by October 1. Once you are trained, you can visit your sector whenever works best for you! 
For each milkweed patch within your sector, you would photograph milkweed (and some other things) and take measurements. You would submit your observations to iNaturalist and complete some additional trip report forms online.  
Who can join?
Anyone that is interested in learning about plant and insect identification, being an ecological detective, and connecting with other people interested in nature 
Anyone that can commit to adopting a sector, visiting sites monthly July-October, taking accurate photos and measurements, submitting data via iNaturalist and online forms, and respecting project rules 
Volunteers under 16 must have an adult guardian present at the event and during any participation in the project
What do you need to join?
Please complete the application form online. It's brief!
We will notify participants of their application status on a rolling basis. Last date to apply is July 8th.