Events for Evolving Shorelines
Starting next week, One Tam is hosting a series of opportunities to get to know your local friendly tidal marsh - and work planned to help it adapt to sea level rise.
Tidal marshes are important parts of our local geography. They help protect from flooding, improve water quality, and provide critical habitat for many species including migratory birds. But sea level rise due to human-cause climate change is affecting our local marshes. In particular, at Bothin Marsh, more frequent and severe flooding impacts the shoreline, plants, wildlife, and the much-used Mill Valley-Sausalito Multi-use Path. 
Take a walk with us or visit the Tam Van in the coming weeks to learn more about One Tam's Evolving Shorelines project which will help adapt Bothin Marsh to sea level rise. This shared community vision is a place where innovative climate adaptations allow for thriving biodiversity, year-round recreation, and carbon-free transportation enjoyed by all. Details on upcoming events below.
Monday, May 22, 9:00-4:00: Tam Van at Bothin Marsh. Look for the Tam Van parked along the Bay Trail across from Miller Avenue. Say hi to One Tam staff and hear updates to the project designs for enhancing the marsh's resilience to sea level rise and elevating the trail. MORE INFO >>
Monday, May 22, 2:30 -4:00: Evolving Shorelines Tour of Bothin Marsh. Learn about how sea level rise is impacting Bothin Marsh and what One Tam is doing to help. The tour will be led by Evolving Shorelines project staff Rob LaPorte, Project Manager at the Parks Conservancy and Veronica Pearson, Senior Ecological Restoration Planner for Marin County Parks. REGISTER >>
Tuesday, May 23, 9:00-4:00: Tam Van at Bothin Marsh. Look for the Tam Van parked along the McGlashen Pathway near the Holiday Inn. Say hi to One Tam staff and hear updates to the designs for enhancing the marsh's resilience to sea level rise and elevating the trail. MORE INFO >>
Friday, June 30, 9:30-11:00: Evolving Shorelines Coffee Hour. Good Earth patio, Tam Valley. Open invitation to the community to share a coffee or tea and talk about the project with the Evolving Shorelines Project team, Marin County Supervisor Stephanie Moulton-Peters, and Marin County Parks Director Max Korten. MORE INFO >>
Friday, June 30, 11:30-1:00: Evolving Shorelines Tour of Bothin Marsh. Meet along the McGlashen Pathway near the Holiday Inn. Open invitation to the community to walk the trails at Bothin Marsh and learn about the historical ecology of the wetlands, and proposed plans for enhancing the marshes resiliency to sea level rise and elevating the Bay Trail through south Bothin Marsh. REGISTER >>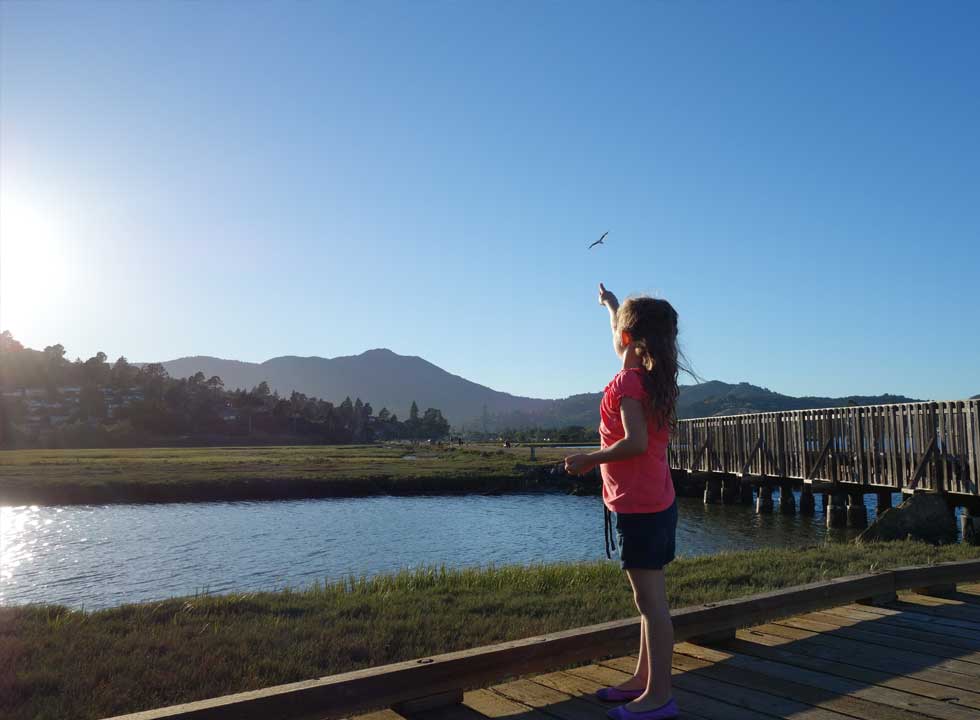 Bothin Marsh and the Mill Valley-Sausalito Pathway is a well-loved and much-used recreational and travel corridor, on top of all the environmental benefits this important tidal marsh provides. Photo: Tina Torresan/Marin County Parks