West Peak Restoration Basis of Design Report
West Peak Restoration Basis of Design summary
The Marin Municipal Watershed District, in partnership with One Tam, is excited to share its preferred concept for the restoration of West Peak, the culmination of more than 18 months of community engagement and technical studies! 
This new vision will ensure cleanup of the site is complete; unique plant communities are enhanced and stewarded; and public access allows visitors to enjoy the breathtaking views and learn more about the unique ecology of the mountain.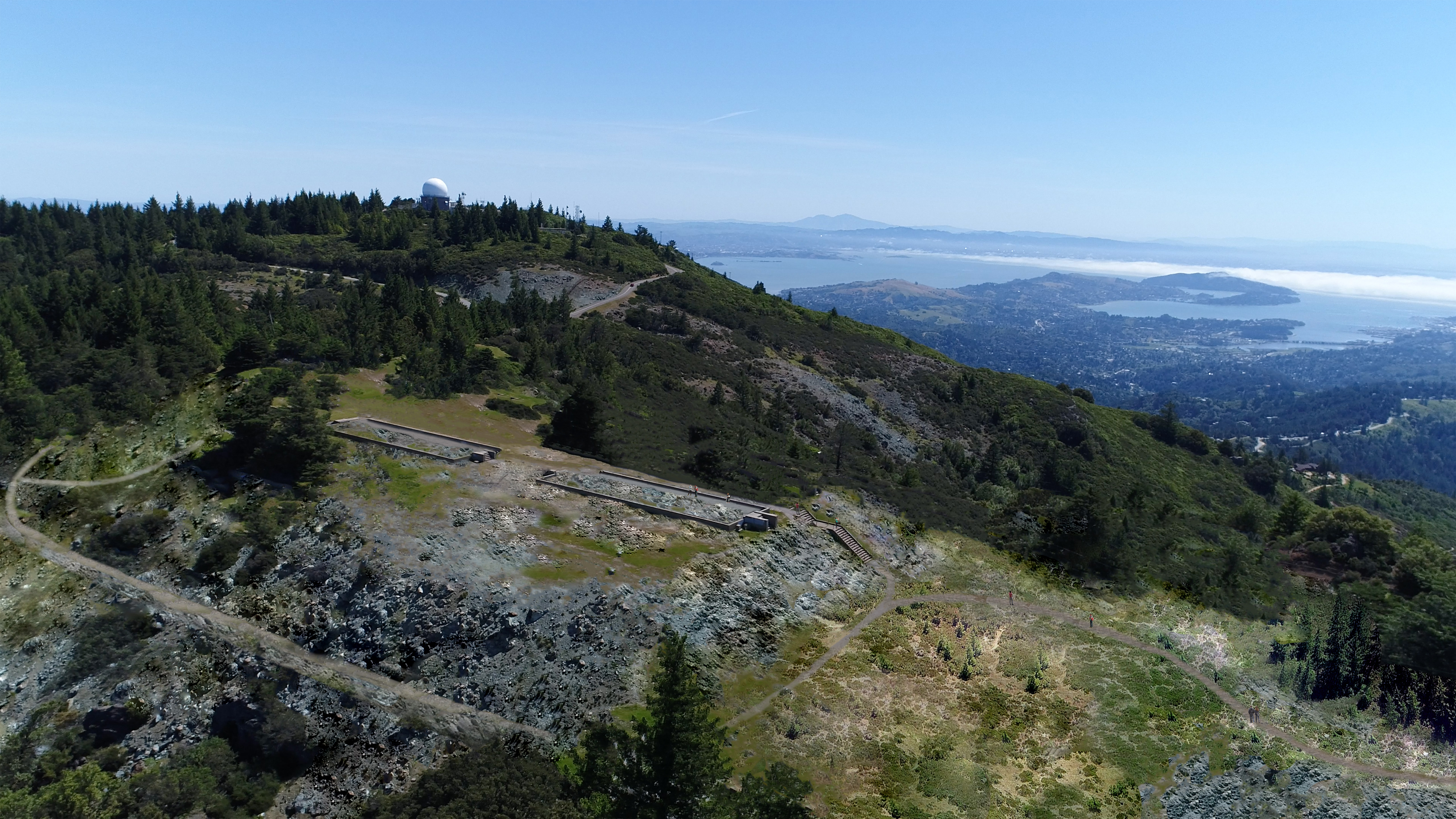 This rendering shows a restoration concept for the West Peak of Mt. Tamalpais would restore the peak to a natural condition and improve visitor access.
Analysis Summary
The project team consisted of civil, geotechnical and environmental engineers, landscape architects, biologist, soil scientist, and cost estimating consultant, led by Conservancy and Marin Municipal Water District (district) staff. The team reviewed existing data and conducted field work to fill data gaps and confirm site conditions. Key findings include:
Nine of ten remaining buildings have hazardous levels of lead paint and asbestos building materials that must be abated before demolition. There are two areas, three to six inches deep, with a total volume of 320 to 630 cubic yards of soil contaminated with lead paint that must be removed and properly disposed.
Six acres of hardscape could be removed to restore permeable surface area. Asphalt would be trucked offsite for disposal or reused in new paving.
Demolished concrete could be crushed and used in topographic restoration on site rather than trucked off the mountain.
Although 59,000 cubic yards of soil has evidently been moved during construction of the Mill Valley Air Force Station (MVAFS), only 34,000 cubic yards is recoverable due to constraints with slopes and vegetation. 27,000 cubic yards of the recoverable fill soil is in three major deposits; at the pool area, the family housing terrace, and the bowling alley road. 
Serpentine barrens, grassland and chaparral habitats have the highest value for restoration; they support the six rare plant species identified at West Peak.
70%-80% of visitors come to West Peak for hiking and spectacular views, but many describe the setting as scarred and ugly. 
Visitors value the quiet setting and sense of discovery—comments about access indicated a desire to provide access but keep visitation low. 
Visitors feel it's important to keep remnants of MVAFS for historical context, but there is concern about adding signage and markers.
Preferred Restoration Concept Summary
The team identified a list of actions that could be taken toward restoring the peak's natural environment. These actions were combined into "bookend" restoration concepts, describing reasonable minimum and maximum levels of restoration. The Minimum and Maximum concepts were presented to the public for comment in October 2017. Community comment and district staff discussion then guided development of a preferred restoration concept. It includes the following actions:
Reduce health and safety risks by demolishing ten remaining buildings and abating hazardous materials. Remove 320-640 cubic yards of lead contaminated soils.
Remove power poles, lines, fences, guardrails, railings and loose debris to declutter the landscape, ensure visitor safety, and improve quality of views.
Demolish and off-haul 5.33 acres of asphalt paving to restore natural drainage process. Retain only the paved access road leased by other agencies and the Radio Tower Field access road.
Demolish concrete paving, foundations, footings, and drainage structures to restore permeability and natural drainage. Crush concrete and reuse onsite to reshape topography.
Excavate 27,000 cubic yards of serpentine soil fill from three major deposits, at the pool area, edges of family housing terrace, and bowling alley road. Place fill up to 24 inches deep in areas to be revegetated with serpentine habitat. 
Restore more natural topography by rebuilding slope from service area to the summit, erasing the family housing terrace, removing road saddles and recreating the natural drainage and wetland at the pool area. Control erosion on all disturbed ground.
Replant restored topography with seed and nursery-grown seedlings to expand serpentine barrens, grassland and chaparral habitat. Encourage natural reforestation of outlying pads for Telco bldg., bowling alley, motorcycle repair and tennis court.
Develop a small trailhead of 10-12 parking spaces at the site gate off East Ridgecrest Blvd. 
Develop a trail through the barracks area at the summit, connecting Mountain Top Trail and Arturo Trail. Keep the grade from the new trailhead to the summit under 8%, consistent with Federal guidelines for accessible trails. Develop a short loop around the north side of the summit if compatible with habitat restoration.
Retain concrete sidewalk and barracks foundations at the summit as historic features, providing subtle, small scale interpretation of MVAFS.
Update trail wayfinding signs. Use remnant foundations for informal seating or viewing platforms.
Download the West Peak Restoration Basis of Design Report
>>Volume I
Print copies are available to view at MMWD and Parks Conservancy offices. If you have questions, contact us at westpeak@onetam.org