Strawberry Moon Over the Bay
Source: Marin County Parks
Old St Hillary's Preserve
Saturday, June 3, 2023, 8 – 9:20pm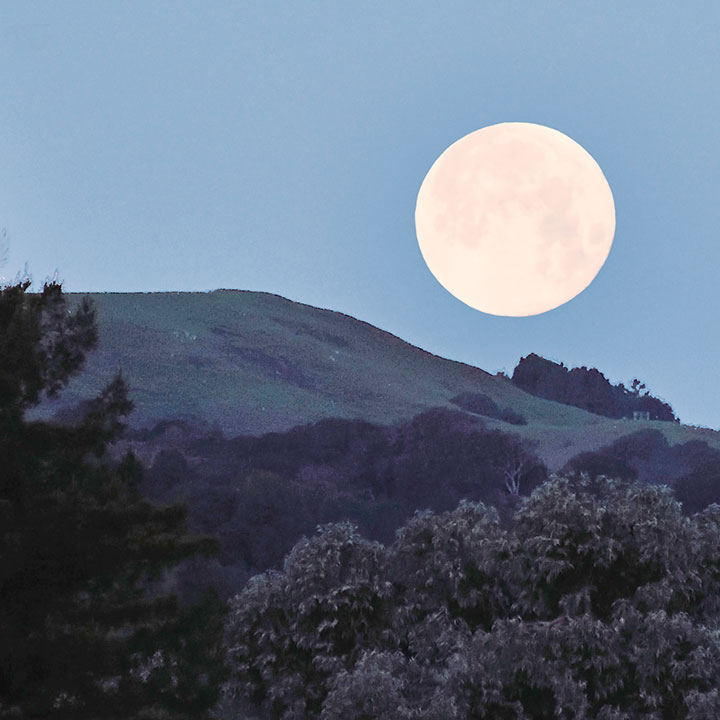 Join Ranger Robert for a pleasant hike through Old St Hilary's to view the awesome splendor of the full moon rising in the east, the setting sun in the west, and amazing city lights! Distance: 1 mile in and out; elevation gain: 40 feet. Appropriate for all ages, bilingual (Spanish). Dress in layers and wear sturdy shoes. Bring a blanket if needed and binoculars or telescope. Friendly dogs ok on leash or with voice control on the fire roads only. Adverse weather or poor air quality may cancel; if in doubt, call (415) 473-2816 two hours before the event to confirm the status. Registration required.
Questions: Contact Robert Roman at RRoman@marincounty.org
Directions
: Directions: Meet at the gate at the end of Heathcliff Dr in Tiburon. From Hwy 101 in Mill Valley, take the exit for Tiburon Blvd (Hwy 131) east for 3.5 miles. Turn left onto Lyford Dr and follow 0.8 miles, right onto Sugarloaf Dr, right onto Heathcliff Dr, and follow to end (dead end).